Genesis Series Cone Crusher
AGGRETEK's line of GENESIS Cone Crushers is the most diverse product line on the market, including a broad range of sizes and features. From aggregates to mining, no matter which model you need, you can be confident that we have engineered it to meet the most common industry concerns to give you better results.
Complete connectivity and optimised control system for high throughput and reduced maintenance
Achieve maximum throughput with the new range of GENESIS cone crushers available in GEN250, GEN350 and GEN450 models, specifically-designed for the aggregates industry. With an integrated user-friendly control system, these configurable, safe crushers are suitable for even your toughest applications.
GENESIS Cone Crusher — the toughest cone crushers on the market
Suitable for even your toughest applications, our cone crushers are built using direct customer input and feedback, making them the most reliable and maintenance friendly options on the market. We give you speed flexibility of speed for the versatility and productivity that you need. Revolutionize your mining projects with the GENESIS Cone Crusher.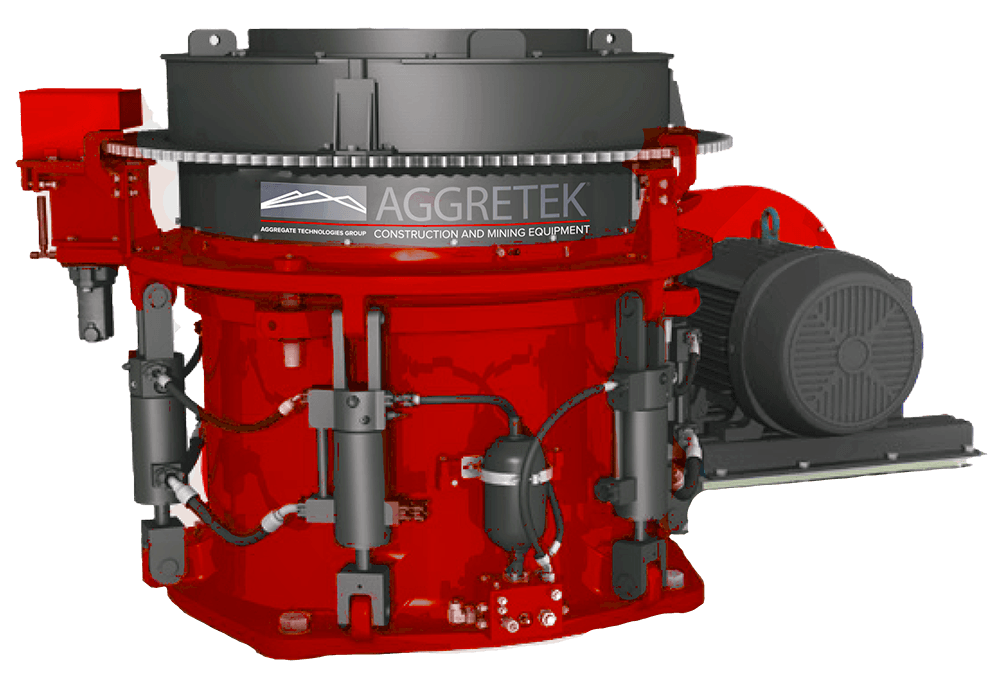 Remote monitoring – all day, every day
Representing the latest in smart technology and connectivity for your operation, our cone crushers are connected to the cloud, providing operational and asset health monitoring metrics 24/7.
Advanced automation and control system
Advanced overload sensing technology detects crushing force overload, and if desired, the advanced automation system can take necessary corrective action. The same system can be used to optimize your crusher performance with feed control, setting adjustment and monitoring of critical lubrication and hydraulic parameters. This means improved efficiency and lower cost for your business.
Machine optimisation software
OEM software is designed to safely operate the machine at its peak performance. It has self-diagnostic capabilities, incorporating state-of-the art operator logs. The crusher is ready for integration with most protocols and central/plant control systems. Your crusher is protected so it maintains high reliability. Liner life is increased and the crusher provides a consistent product capacity and gradation.
Improved consistency of particle size
The innovative software helps maintain desired output through power-based control or particle size analysis, which automatically adjusts the close-side settings. The benefit is increased consistency of particle size.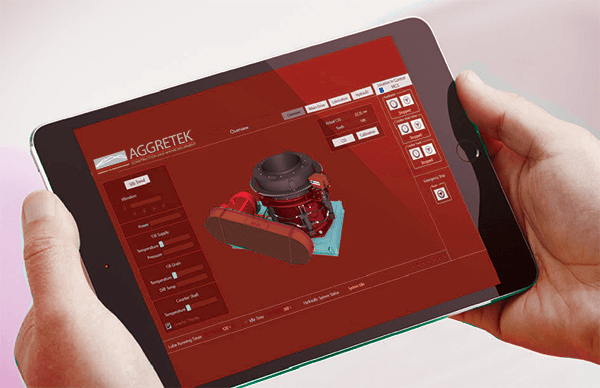 Remote data visibility
You can remotely monitor operational and health metrics of the crusher, and set alarm limits with push notifications available on your mobile phone, thanks to the remote data visibility. You have visibility to key metrics such as tonnage, PSD, liner life, and other key health and operational metrics. This allows better decision- making for the operation. No more being kept in the dark.
Maximum reduction ratios
With a combination of variable speed and large throw, GENESIS cone crushers provide high reduction ratios. Because of their efficient crushing action, the crushers have a large power utilization per cone diameter. The high cavity density improves inter-particular crushing action for end products, with a more consistent gradation and superior product shape (cubicity).
Ease of installation
The GENESIS Cone Crushers GEN250, GEN350 and GEN450 are easy to install. The unit (crusher, lubricant and hydraulic skids) arrives onsite at your project's location on a structural frame that can be mounted to a concrete foundation or mobile unit. With the Aggretek machine control system it is ready to go or it can easily be connected to the plant's central control system.
After-sales service
You receive the benefits of Aggretek's supply chain and 100 percent integrated unit of supplied components.
You know that we will be on board with you all the way with options including:
■ technical advice and audits
■ complementary products such as crusher liners and supply of spares
■ on-site and workshop service (rebuilds, retrofits and modernisations)
■ optimization software to integrate your entire project.
We optimise complete crushing circuits and utilize a crushing plant simulation to ensure you find the best crusher for your application.
Additionally, we offer service agreements and training so that your operators will know how best to operate your GENESIS cone crushers safely and efficiently.
GENESIS 250 Capacity
Setting (Inch)
Short-Head Fine
Short-Head Medium
Short-Head Medium
Short-Head Coarse
Standard Fine
Standard Fine
Standard Fine
Standard Medium
Standard Coarse
GENESIS 250 Capacity
st/hr (Min)
Short-Head Fine
Short-Head Medium
Short-Head Medium
Short-Head Coarse
Standard Fine
Standard Fine
Standard Fine
Standard Medium
Standard Coarse
GENESIS 250 Capacity
st/hr (Max)
Short-Head Fine
Short-Head Medium
Short-Head Medium
Short-Head Coarse
Standard Fine
Standard Fine
Standard Fine
Standard Medium
Standard Coarse
GENESIS 350 Capacity
Setting (Inch)
Short-Head Fine
Short-Head Medium
Short-Head Medium
Short-Head Coarse
Standard Fine
Standard Fine
Standard Fine
Standard Medium
Standard Coarse
GENESIS 350 Capacity
st/hr (Min)
Short-Head Fine
Short-Head Medium
Short-Head Medium
Short-Head Coarse
Standard Fine
Standard Fine
Standard Fine
Standard Medium
Standard Coarse
GENESIS 350 Capacity
st/hr (Max)
Short-Head Fine
Short-Head Medium
Short-Head Medium
Short-Head Coarse
Standard Fine
Standard Fine
Standard Fine
Standard Medium
Standard Coarse
GENESIS 450 Capacity
Setting (Inch)
Short-Head Fine
Short-Head Medium
Short-Head Medium
Short-Head Coarse
Standard Fine
Standard Fine
Standard Fine
Standard Medium
Standard Coarse
GENESIS 450 Capacity
st/hr (Min)
Short-Head Fine
Short-Head Medium
Short-Head Medium
Short-Head Coarse
Standard Fine
Standard Fine
Standard Fine
Standard Medium
Standard Coarse
GENESIS 450 Capacity
st/hr (Max)
Short-Head Fine
Short-Head Medium
Short-Head Medium
Short-Head Coarse
Standard Fine
Standard Fine
Standard Fine
Standard Medium
Standard Coarse
Major Dimensions (inch)
Adjustment ring max diameter
GEN250
GEN350
GEN450
Major Dimensions (inch)
Inside diameter of feed hopper
GEN250
GEN350
GEN450
Major Dimensions (inch)
Clearing stroke travel
GEN250
GEN350
GEN450
Major Dimensions (inch)
Height from base to top of feed hopper
GEN250
GEN350
GEN450
Major Dimensions (inch)
Base to bottom of oil piping
GEN250
GEN350
GEN450
Major Dimensions (inch)
Base to bottom of main frame hub
GEN250
GEN350
GEN450
Major Dimensions (inch)
Base to top of feed plate
GEN250
GEN350
GEN450
Major Dimensions (inch)
Hub diameter of main frame
GEN250
GEN350
GEN450
Major Dimensions (inch)
Crusher centerlines to main frame flange
GEN250
GEN350
GEN450
Major Dimensions (inch)
Clearance required to remove countershaft assembly
GEN250
GEN350
GEN450
Major Dimensions (inch)
Crusher centerline end of countershaft
GEN250
GEN350
GEN450
Major Dimensions (inch)
Crusher centerline to countershaft housing face
GEN250
GEN350
GEN450
Major Dimensions (inch)
Clearance required to remove head assembly
GEN250
GEN350
GEN450
Major Dimensions (inch)
Clearance required to remove bowl assembly
GEN250
GEN350
GEN450
GENESIS 250 Capacity
Setting (mm)
Short-Head Fine
Short-Head Medium
Short-Head Medium
Short-Head Coarse
Standard Fine
Standard Fine
Standard Fine
Standard Medium
Standard Coarse
GENESIS 250 Capacity
mt/hr (Min)
Short-Head Fine
Short-Head Medium
Short-Head Medium
Short-Head Coarse
Standard Fine
Standard Fine
Standard Fine
Standard Medium
Standard Coarse
GENESIS 250 Capacity
mt/hr (Max)
Short-Head Fine
Short-Head Medium
Short-Head Medium
Short-Head Coarse
Standard Fine
Standard Fine
Standard Fine
Standard Medium
Standard Coarse
GENESIS 350 Capacity
Setting (mm)
Short-Head Fine
Short-Head Medium
Short-Head Medium
Short-Head Coarse
Standard Fine
Standard Fine
Standard Fine
Standard Medium
Standard Coarse
GENESIS 350 Capacity
mt/hr (Min)
Short-Head Fine
Short-Head Medium
Short-Head Medium
Short-Head Coarse
Standard Fine
Standard Fine
Standard Fine
Standard Medium
Standard Coarse
GENESIS 350 Capacity
mt/hr (Max)
Short-Head Fine
Short-Head Medium
Short-Head Medium
Short-Head Coarse
Standard Fine
Standard Fine
Standard Fine
Standard Medium
Standard Coarse
GENESIS 450 Capacity
Setting (mm)
Short-Head Fine
Short-Head Medium
Short-Head Medium
Short-Head Coarse
Standard Fine
Standard Fine
Standard Fine
Standard Medium
Standard Coarse
GENESIS 450 Capacity
mt/hr (Min)
Short-Head Fine
Short-Head Medium
Short-Head Medium
Short-Head Coarse
Standard Fine
Standard Fine
Standard Fine
Standard Medium
Standard Coarse
GENESIS 450 Capacity
mt/hr (Max)
Short-Head Fine
Short-Head Medium
Short-Head Medium
Short-Head Coarse
Standard Fine
Standard Fine
Standard Fine
Standard Medium
Standard Coarse
Major Dimensions (mm)
Adjustment ring max diameter
GEN250
GEN350
GEN450
Major Dimensions (mm)
Inside diameter of feed hopper
GEN250
GEN350
GEN450
Major Dimensions (mm)
Clearing stroke travel
GEN250
GEN350
GEN450
Major Dimensions (mm)
Height from base to top of feed hopper
GEN250
GEN350
GEN450
Major Dimensions (mm)
Base to bottom of oil piping
GEN250
GEN350
GEN450
Major Dimensions (mm)
Base to bottom of main frame hub
GEN250
GEN350
GEN450
Major Dimensions (mm)
Base to top of feed plate
GEN250
GEN350
GEN450
Major Dimensions (mm)
Hub diameter of main frame
GEN250
GEN350
GEN450
Major Dimensions (mm)
Crusher centerlines to main frame flange
GEN250
GEN350
GEN450
Major Dimensions (mm)
Clearance required to remove countershaft assembly
GEN250
GEN350
GEN450
Major Dimensions (mm)
Crusher centerline end of countershaft
GEN250
GEN350
GEN450
Major Dimensions (mm)
Crusher centerline to countershaft housing face
GEN250
GEN350
GEN450
Major Dimensions (mm)
Clearance required to remove head assembly
GEN250
GEN350
GEN450
Major Dimensions (mm)
Clearance required to remove bowl assembly
GEN250
GEN350
GEN450
Durable, low-profile design that can be fitted onto a portable chassis

Inverted tramp release cylinders for cleaner hydraulics

Integrated CSB

Single head bushing for easier maintenance and reduced operating costs
Generates chips quickly and easily in high-stress applications with high force
Hydraulics with bypass release to protect the crusher from mechanical overload and protect the hydraulic cylinders from failures in the accumulator bladder
Tramp release cylinders provide both clamping pressure for crushing and clearing action for tramp events
Mobile closed circuit plant
Easily mounted and transported on a portable cone/screen chassis
Ideal as a secondary crusher after a jaw crusher or tertiary crusher for aggregate, asphalt or concrete products

Gives more usable aggregate per ton processed than competitive models in its class

Can accept up to 25% larger ores due to its 1.3 m (52 in) head diameter, large feed opening, high-pivot-point crushing action and wide crushing stroke
AGGREGATE TECHNOLOGIES GROUP

CORPORATE HEADQUARTERS
150 Isidor Ct. Suite 103
Sparks, Nevada 89441
USA
WEST COAST SALES
Sparks, NV
+1 775-686-6900
EAST COAST SALES
Poughkeepskie, NY
+1 775-335-5480
DISTRIBUTION CENTER
Sparks, NV
ENGINEERING DIVISION
Maddison, WI
DEALER RELATIONS
Seattle, WA
SERVICE DIVISION
Billings, MT