Genesis Series Cone Crusher
AGGRETEK's line of GENESIS Cone Crushers is the most diverse product line on the market, including a broad range of sizes and features. From aggregates to mining, no matter which model you need, you can be confident that we have engineered it to meet the most common industry concerns to give you better results.
Complete connectivity and optimised control system for high throughput and reduced maintenance
Achieve maximum throughput with the new range of GENESIS cone crushers available in GEN100, GEN200. GEN300 and GEN400 models, specifically-designed for the aggregates industry. With an integrated user-friendly control system, these configurable, safe crushers are suitable for even your toughest applications.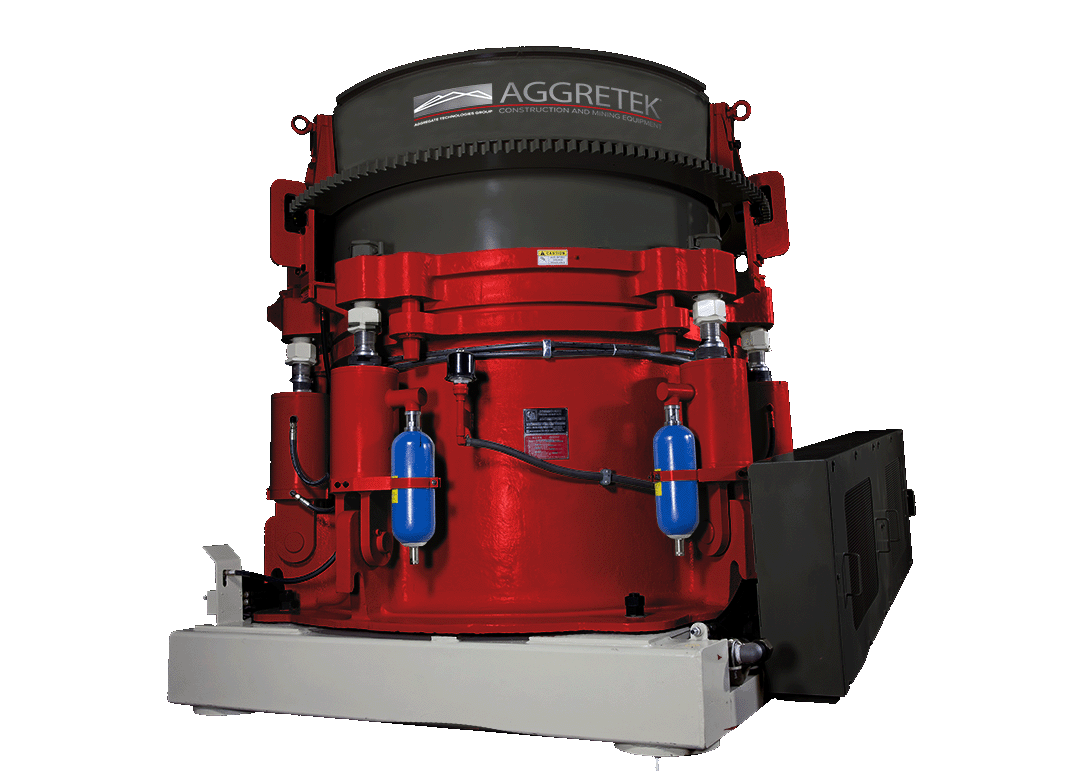 The combination of hydraulic cushioning and pressurized gas accumulator allows for smooth passage of steel pieces or other uncrushable materials.

Ultrasonic testing is performed on the internal structures of swinging jaw shafts to detect and prevent hidden defects.

The heavy-duty and robust design guarantees consistent high performance, even in the most challenging applications.
Our foundry produces wear parts that offer a longer lifespan, resulting in reduced cost per ton of crushing.

Simple and quick operations enable easy replacement of mantles.

An automatic lubrication system is included as a standard accessory.
GENESIS 100
Feed Size (mm)
SS (Extra Fine)
SF (Fine)
F (Medium)
C (Coarse)
CC (Extra Coarse)
GENESIS 100
Min Settings (mm)
SS (Extra Fine)
SF (Fine)
F (Medium)
C (Coarse)
CC (Extra Coarse)
GENESIS 100
Motor Power (kW)
SS (Extra Fine)
SF (Fine)
F (Medium)
C (Coarse)
CC (Extra Coarse)
GENESIS 100
Weight (w/o Motor) (kg)
SS (Extra Fine)
SF (Fine)
F (Medium)
C (Coarse)
CC (Extra Coarse)
GENESIS 300
Feed Size (mm)
SS (Extra Fine)
SF (Fine)
F (Medium)
C (Coarse)
CC (Extra Coarse)
GENESIS 300
Min Settings (mm)
SS (Extra Fine)
SF (Fine)
F (Medium)
C (Coarse)
CC (Extra Coarse)
GENESIS 300
Motor Power (kW)
SS (Extra Fine)
SF (Fine)
F (Medium)
C (Coarse)
CC (Extra Coarse)
GENESIS 300
Weight (w/o Motor) (kg)
SS (Extra Fine)
SF (Fine)
F (Medium)
C (Coarse)
CC (Extra Coarse)
GENESIS 200
Feed Size (mm)
SS (Extra Fine)
SF (Fine)
F (Medium)
C (Coarse)
CC (Extra Coarse)
GENESIS 200
Min Settings (mm)
SS (Extra Fine)
SF (Fine)
F (Medium)
C (Coarse)
CC (Extra Coarse)
GENESIS 200
Motor Power (kW)
SS (Extra Fine)
SF (Fine)
F (Medium)
C (Coarse)
CC (Extra Coarse)
GENESIS 200
Weight (w/o Motor) (kg)
SS (Extra Fine)
SF (Fine)
F (Medium)
C (Coarse)
CC (Extra Coarse)
GENESIS 400
Feed Size (mm)
SS (Extra Fine)
SF (Fine)
F (Medium)
C (Coarse)
CC (Extra Coarse)
GENESIS 400
Min Settings (mm)
SS (Extra Fine)
SF (Fine)
F (Medium)
C (Coarse)
CC (Extra Coarse)
GENESIS 400
Motor Power (kW)
SS (Extra Fine)
SF (Fine)
F (Medium)
C (Coarse)
CC (Extra Coarse)
GENESIS 400
Weight (w/o Motor) (kg)
SS (Extra Fine)
SF (Fine)
F (Medium)
C (Coarse)
CC (Extra Coarse)
Capacity (t/h)
Setting 6 (mm)
GEN100
GEN300
GEN300
GEN400
Capacity (t/h)
Setting 8 (mm)
GEN100
GEN300
GEN300
GEN400
Capacity (t/h)
Setting 10 (mm)
GEN100
GEN300
GEN300
GEN400
Capacity (t/h)
Setting 13 (mm)
GEN100
GEN300
GEN300
GEN400
Capacity (t/h)
Setting 16 (mm)
GEN100
GEN300
GEN300
GEN400
Capacity (t/h)
Setting 19 (mm)
GEN100
GEN300
GEN300
GEN400
Capacity (t/h)
Setting 22 (mm)
GEN100
GEN300
GEN300
GEN400
Capacity (t/h)
Setting 25 (mm)
GEN100
GEN300
GEN300
GEN400
Capacity (t/h)
Setting 32 (mm)
GEN100
GEN300
GEN300
GEN400
Capacity (t/h)
Setting 38 (mm)
GEN100
GEN300
GEN300
GEN400
Capacity (t/h)
Setting 45 (mm)
GEN100
GEN300
GEN300
GEN400
Capacity (t/h)
Setting 51 (mm)
GEN100
GEN300
GEN300
GEN400

Dimensions (mm)
A
GEN100
GEN300
GEN300
GEN400
Dimensions (mm)
B
GEN100
GEN300
GEN300
GEN400
Dimensions (mm)
C
GEN100
GEN300
GEN300
GEN400
Dimensions (mm)
D
GEN100
GEN300
GEN300
GEN400
Dimensions (mm)
E
GEN100
GEN300
GEN300
GEN400
Dimensions (mm)
F
GEN100
GEN300
GEN300
GEN400
Dimensions (mm)
G
GEN100
GEN300
GEN300
GEN400
Dimensions (mm)
H
GEN100
GEN300
GEN300
GEN400
Dimensions (mm)
I
GEN100
GEN300
GEN300
GEN400
Dimensions (mm)
J
GEN100
GEN300
GEN300
GEN400
AGGREGATE TECHNOLOGIES GROUP

CORPORATE HEADQUARTERS
150 Isidor Ct. Suite 103
Sparks, Nevada 89441
USA
WEST COAST SALES
Sparks, NV
+1 775-686-6900
EAST COAST SALES
Poughkeepskie, NY
+1 775-335-5480
DISTRIBUTION CENTER
Sparks, NV
ENGINEERING DIVISION
Maddison, WI
DEALER RELATIONS
Seattle, WA
SERVICE DIVISION
Billings, MT