AGGRETEK's grizzly feeders have been designed to excel in the harshest conditions and applications. High abrasion resistance, durable heat-treated drive console and high quality vibrators ensure peak efficiency, reliable feeding and effective long-term operation with minimum breakdowns.
HEAVY-DUTY VIBRATING SCREENS
The output material of the primary group may need to be screened in accordance with the installation plan. In these cases, standard vibrating screens may not meet the required capacity and can be disadvantageous in respect to servicing costs, but the top decks of our heavy-duty screens are equipped with grizzly or abrasion resistant perforated plates to avoid any damage caused by large-size materials. The springs on heavy-duty screens are more durable as well.
PROVEN QUALITY VIBRATORS
The vibrators used on our feeders are of internationally approved quality, and serve to increase feeder performance to the highest level. The frequency of these vibrators is adjustable through the control panel, making it very easy to maintain the grizzly feeder's performance at peak levels according to the nature of the rock being crushed.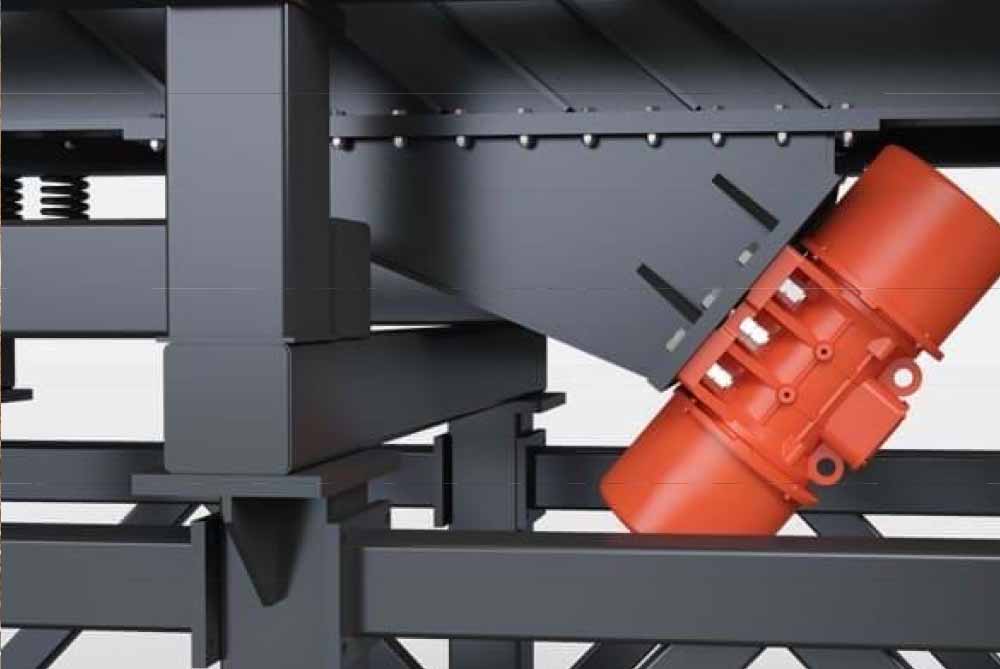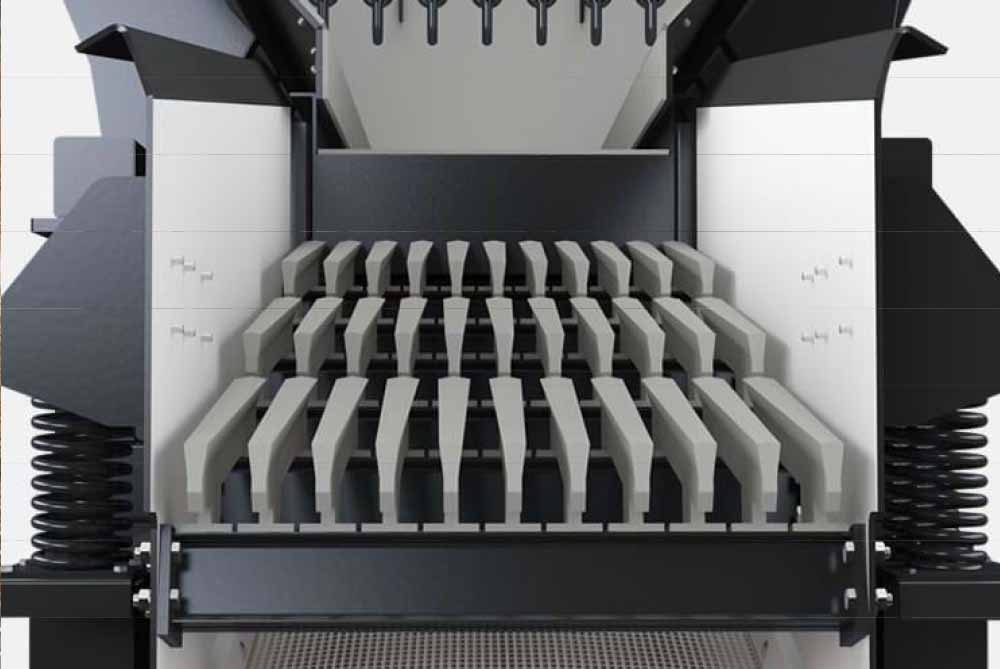 AGF208-1
W x L
feet
Drive
HP
Capacity
stph
Length of Grizzly
feet
Maximum Feed Size
inch
AGF308-1
W x L
feet
Drive
HP
Capacity
stph
Length of Grizzly
feet
Maximum Feed Size
inch
AGF3511-1
W x L
feet
Drive
HP
Capacity
stph
Length of Grizzly
feet
Maximum Feed Size
inch
AGF3614-1
W x L
feet
Drive
HP
Capacity
stph
Length of Grizzly
feet
Maximum Feed Size
inch
AGF4315-2
W x L
feet
Drive
HP
Capacity
stph
Length of Grizzly
feet
Maximum Feed Size
inch
AGF4720-2
W x L
feet
Drive
HP
Capacity
stph
Length of Grizzly
feet
Maximum Feed Size
inch
AGF4816-1
W x L
feet
Drive
HP
Capacity
stph
Length of Grizzly
feet
Maximum Feed Size
inch
AGF4820-1
W x L
feet
Drive
HP
Capacity
stph
Length of Grizzly
feet
Maximum Feed Size
inch
AGF5516-1
W x L
feet
Drive
HP
Capacity
stph
Length of Grizzly
feet
Maximum Feed Size
inch
AGF5520-1
W x L
feet
Drive
HP
Capacity
stph
Length of Grizzly
feet
Maximum Feed Size
inch
AGF6020-1
W x L
feet
Drive
HP
Capacity
stph
Length of Grizzly
feet
Maximum Feed Size
inch
AGF208-1
W x L
mm
Drive
kW
Capacity
mtph
Length of Grizzly
mm
Maximum Feed Size
mm
AGF308-1
W x L
mm
Drive
kW
Capacity
mtph
Length of Grizzly
mm
Maximum Feed Size
mm
AGF3511-1
W x L
mm
Drive
kW
Capacity
mtph
Length of Grizzly
mm
Maximum Feed Size
mm
AGF3614-1
W x L
mm
Drive
kW
Capacity
mtph
Length of Grizzly
mm
Maximum Feed Size
mm
AGF4315-2
W x L
mm
Drive
kW
Capacity
mtph
Length of Grizzly
mm
Maximum Feed Size
mm
AGF4720-2
W x L
mm
Drive
kW
Capacity
mtph
Length of Grizzly
mm
Maximum Feed Size
mm
AGF4816-1
W x L
mm
Drive
kW
Capacity
mtph
Length of Grizzly
mm
Maximum Feed Size
mm
AGF4820-1
W x L
mm
Drive
kW
Capacity
mtph
Length of Grizzly
mm
Maximum Feed Size
mm
AGF5516-1
W x L
mm
Drive
kW
Capacity
mtph
Length of Grizzly
mm
Maximum Feed Size
mm
AGF5520-1
W x L
mm
Drive
kW
Capacity
mtph
Length of Grizzly
mm
Maximum Feed Size
mm
AGF6020-1
W x L
mm
Drive
kW
Capacity
mtph
Length of Grizzly
mm
Maximum Feed Size
mm
AGGREGATE TECHNOLOGIES GROUP

CORPORATE HEADQUARTERS
150 Isidor Ct. Suite 103
Sparks, Nevada 89441
USA
WEST COAST SALES
Sparks, NV
+1 775-686-6900
EAST COAST SALES
Poughkeepskie, NY
+1 775-335-5480
DISTRIBUTION CENTER
Sparks, NV
ENGINEERING DIVISION
Maddison, WI
DEALER RELATIONS
Seattle, WA
SERVICE DIVISION
Billings, MT