GO ALMOST ANYWHERE
CRUSH ALMOST ANYTHING

ABOUT AGGRETEK'S WORK HORSE SERIES JAW CRUSHERS
AGGRETEK Track jaw crushers represent a groundbreaking innovation in the field of crushing and material processing. These highly specialized machines are designed to tackle the challenging task of breaking down large rocks and ores into smaller, more manageable sizes.
In various industries, such as construction, mining, and quarrying, track jaw crushers have emerged as indispensable tools for efficient and effective crushing operations. They are engineered to handle a wide range of materials, including hard and abrasive substances like granite, basalt, and limestone.
High screening performance with a sharp diferentiation of end product sizing.
Driving with diesel engine makes mobile units more practical and handy.
Track-mounted mobile design helps to meet higher demands for mobility at the field of operation.
Aggretek Remote Control System (RCS) makes mobile crusher more secure and easy to operate.
Low investment cost compared to international competitors.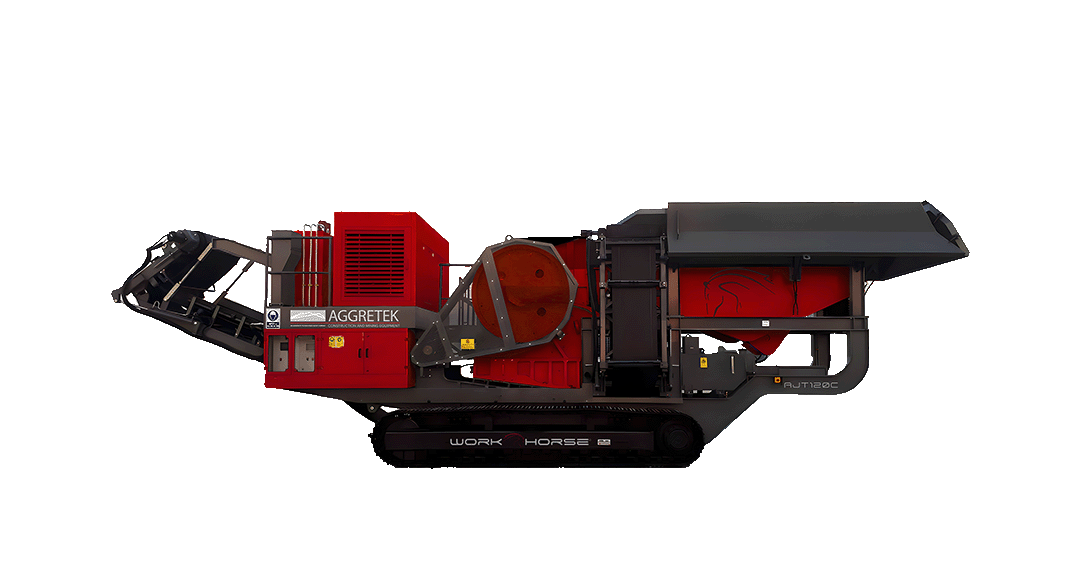 Hardox hoppers. Feeding with a loader is possible.
Large Flywheel provides unparalleled momentum.
30% Bigger hydraulic tank.
Permanent magnetic separator
19mm (3/4″) steel reinforced rip stop belt.
Tier 4 final diesel power plant
Large distance between crusher outlet and conveyor belt (required for recycling).
Hydraulically foldable side conveyor.
Hydraulically adjustable vibrating hopper.
Crusher
Type
AWHJ 4726c
AWHJ 4726r
Engine Power
HP
AWHJ 4726c
AWHJ 4726r
Engine Power
kW
AWHJ 4726c
AWHJ 4726r
Feed Opening
inches
AWHJ 4726c
AWHJ 4726r
Feed Opening
mm
AWHJ 4726c
AWHJ 4726r
Feed Size
inches
AWHJ 4726c
AWHJ 4726r
Feed Size
mm
AWHJ 4726c
AWHJ 4726r
Capacity
t/h
AWHJ 4726c
AWHJ 4726r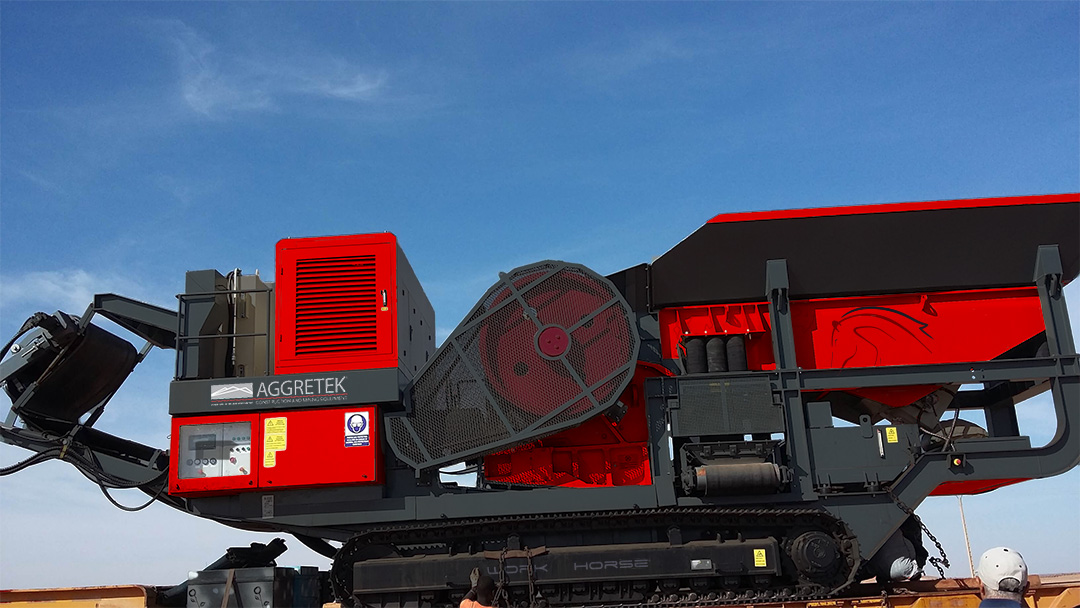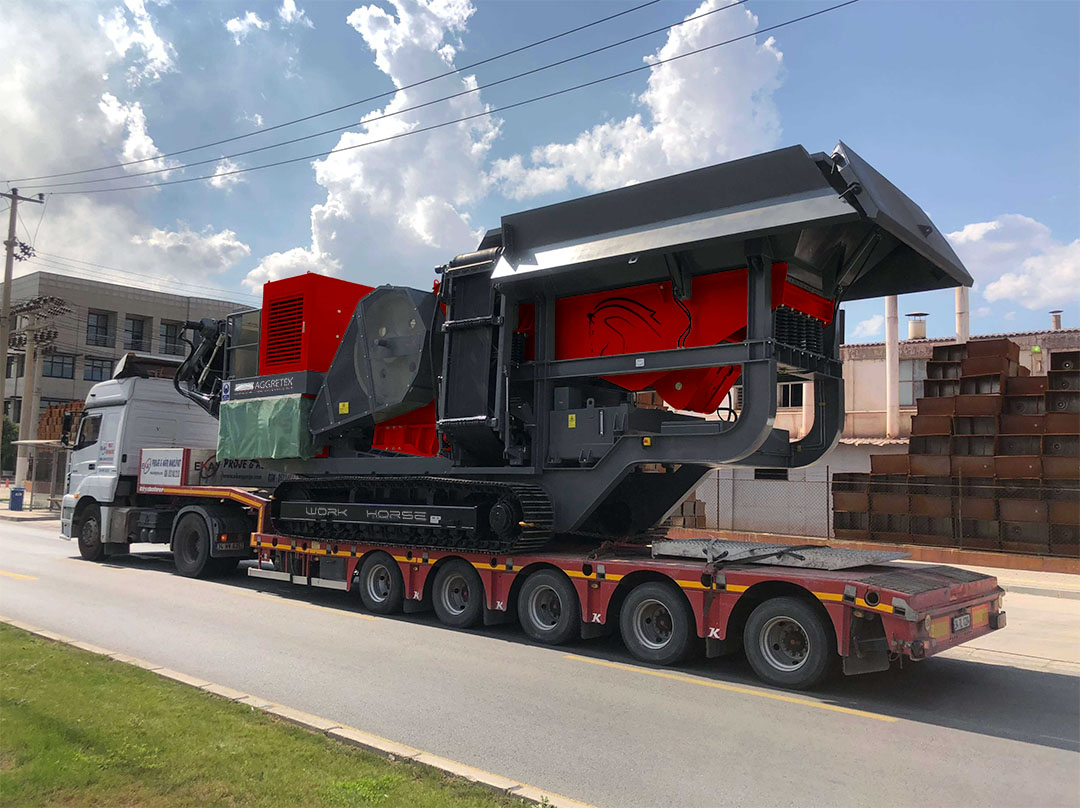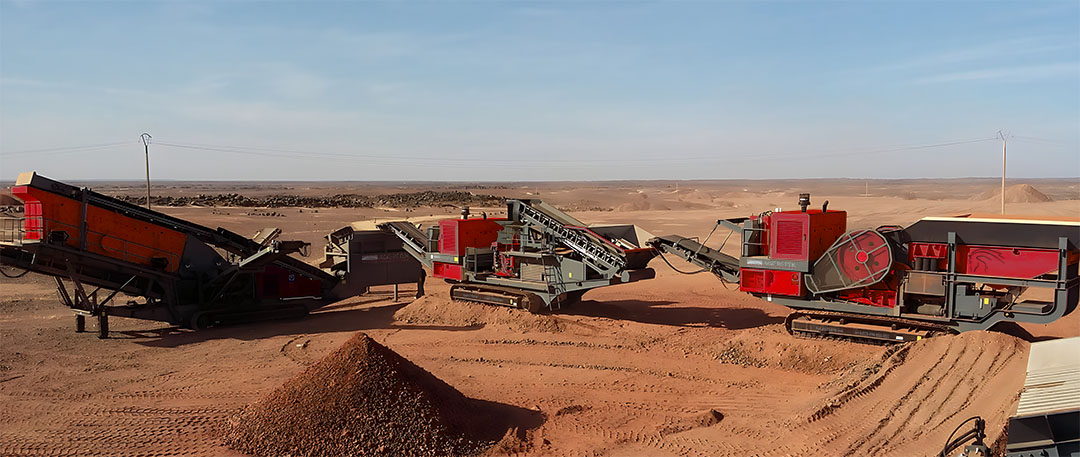 Quarrying and Mining: Track jaw crushers are extensively used in quarrying and mining operations to crush and process rocks and ores. They are particularly effective in extracting valuable minerals and aggregates from the earth's crust. These crushers serve as the primary stage of the crushing process, reducing the size of the extracted materials for further processing.
Construction Projects: Track jaw crushers play a vital role in construction projects, especially those involving the creation of roads, buildings, and infrastructure. They are used to crush and process construction materials, such as concrete, asphalt, and demolition waste. These crushers help recycle and repurpose construction waste, contributing to sustainable construction practices.
Demolition and Recycling: In demolition projects, track jaw crushers are utilized to crush and process demolished materials, including concrete, bricks, and rubble. The ability to break down these materials into smaller sizes facilitates recycling and the production of reusable aggregates. This reduces the environmental impact of demolition activities and promotes the circular economy.
Aggregate Production: Track jaw crushers are crucial components in aggregate production plants. They are employed to process raw materials into various sizes of aggregate, such as crushed stone, sand, and gravel. These aggregates serve as essential building materials in the construction industry, used in the creation of concrete, asphalt, and other construction products.
Road and Highway Construction: Track jaw crushers are used in road and highway construction projects to crush and process materials for the construction and maintenance of road surfaces. They help create the necessary aggregates and base materials required for road foundations, ensuring the durability and longevity of the constructed infrastructure.
Landscaping and Site Development: Track jaw crushers find applications in landscaping and site development projects. They are used to crush rocks and materials for landscaping purposes, such as creating pathways, garden features, and decorative elements. These crushers enable the transformation of raw materials into aesthetically pleasing and functional elements in outdoor spaces.
Remote and Temporary Projects: The mobility of track jaw crushers makes them suitable for remote or temporary projects. They can be easily transported to different job sites and set up quickly, allowing for efficient on-site crushing in diverse locations. This flexibility is particularly valuable for projects in remote areas or temporary work zones.
REMOTE CONTROLLED
Remote-controlled track machines provide a range of benefits, including improved operator safety, enhanced accessibility, precise control, increased productivity, flexibility, and reduced operator fatigue. These advantages make them valuable tools in industries where efficiency, safety, and performance are paramount.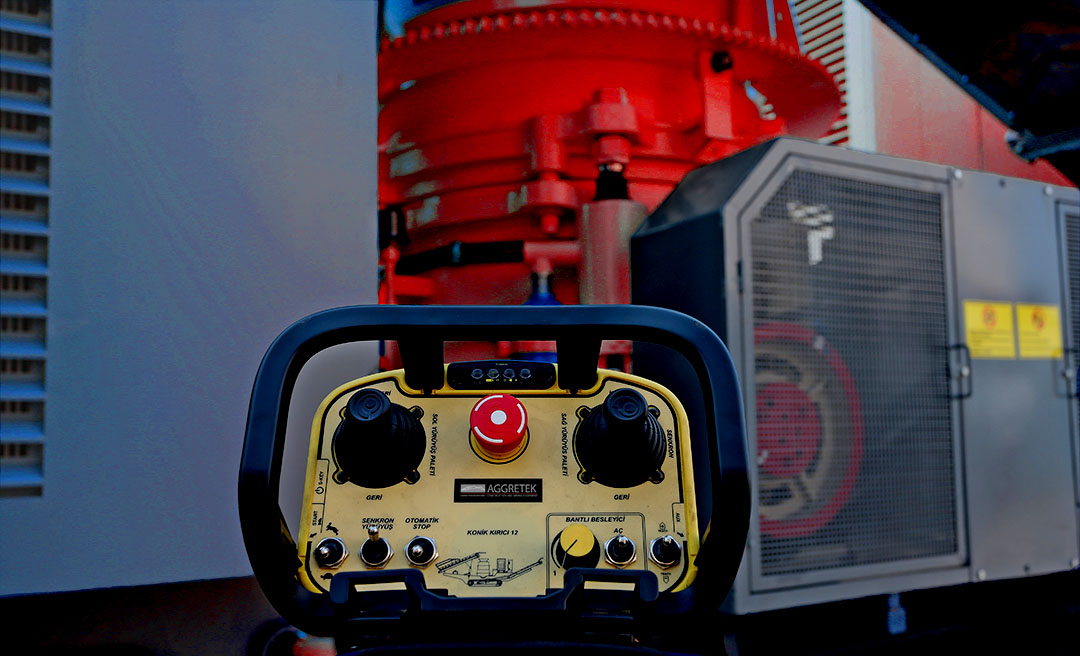 AGGREGATE TECHNOLOGIES GROUP

CORPORATE HEADQUARTERS
150 Isidor Ct. Suite 103
Sparks, Nevada 89441
USA
WEST COAST SALES
Sparks, NV
+1 775-686-6900
EAST COAST SALES
Poughkeepskie, NY
+1 775-335-5480
DISTRIBUTION CENTER
Sparks, NV
ENGINEERING DIVISION
Maddison, WI
DEALER RELATIONS
Seattle, WA
SERVICE DIVISION
Billings, MT