GO ALMOST ANYWHERE
CRUSH ALMOST ANYTHING

ABOUT AGGRETEK'S WORK HORSE SERIES CONE CRUSHERS
Aggretek Track Cone Crushers are advanced machines used in various industries, primarily in the fields of aggregate processing, mining, and construction. These specialized crushers are designed to crush and process hard and abrasive materials into finer particles, making them ideal for a wide range of applications.
The versatility of track cone crushers allows them to handle a wide range of materials and applications. They are capable of crushing both hard and soft rocks, offering flexibility in processing various types of materials. The adjustable settings of track cone crushers enable operators to control the final product size, making them suitable for different project requirements.
With their mobility, advanced features, and versatility, Aggretek's Work Horse Series Cone Crushers contribute to efficient operations, high-quality end products, and optimized material utilization.
Mobile units are manufactured with crawler
Optional screening unit with return belt for Closed Circuit Operation.
High mobility at operation and at site makes mobile units more practical and handy
Track-mounted mobile units are driven by diesel engine and hydraulic motors)
Track-mounted mobile units can be operated by remote control
Mobile crawler and axle units are manufactured in accordance with road clearance size.
Low investment cost compared to international competitors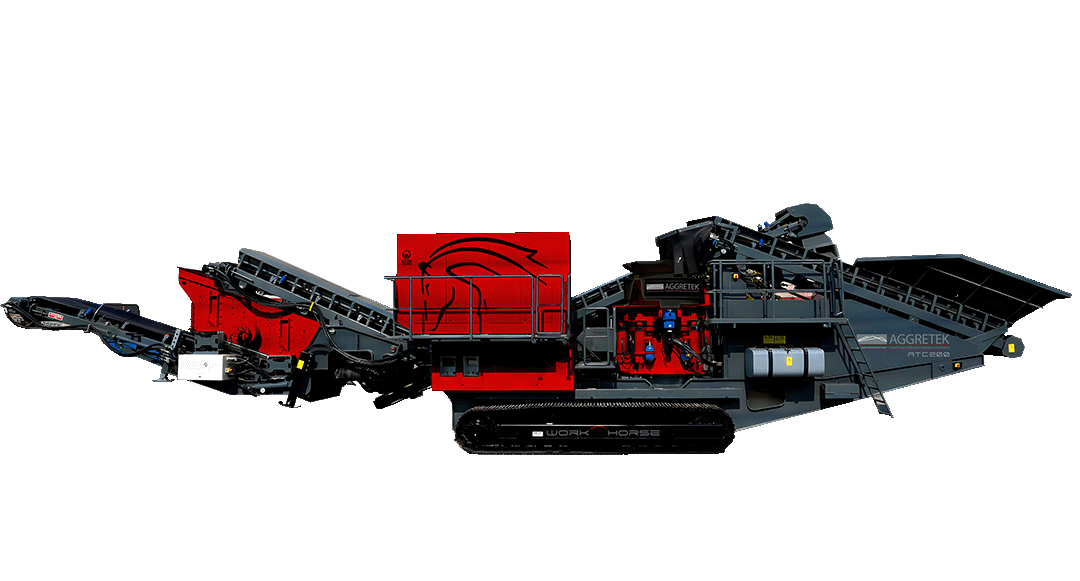 19mm (3/4″) steel reinforced rip stop belt.
Hydraulic steel rejection system with metal detector.
LCD CSS gap display with push button gap adjustment.
Lowerable main conveyor belt.
Shown with optional mounted screen box.
Crusher
Type
AWHC 200c
AWHC 200r
Engine Power
HP
AWHC 200c
AWHC 200r
Engine Power
kW
AWHC 200c
AWHC 200r
Feed Opening
inches
AWHC 200c
AWHC 200r
Feed Opening
mm
AWHC 200c
AWHC 200r
Feed Size
inches
AWHC 200c
AWHC 200r
Feed Size
mm
AWHC 200c
AWHC 200r
Capacity
t/h
AWHC 200c
AWHC 200r
Aggregate Production: Track cone crushers are extensively used in aggregate production plants. They are employed to crush and process materials like crushed stone, sand, and gravel, which are essential components in the construction industry. By producing finely crushed aggregates, track cone crushers ensure the creation of high-quality materials for concrete, asphalt, and other construction products.
Mining Operations: Track cone crushers play a vital role in mining operations, particularly in the processing of ores and minerals. They are utilized to crush and process extracted materials such as iron ore, copper, gold, and various other metallic and non-metallic minerals. Track cone crushers prepare the raw materials for further processing and optimize the efficiency of downstream operations.
Quarrying: In the quarrying industry, track cone crushers are used to crush and process rocks for various applications. They enable the production of different-sized aggregates required for construction projects. By processing the extracted materials on-site, track cone crushers eliminate the need for transportation to off-site crushing facilities, resulting in cost and time savings.
Road Construction: Track cone crushers are employed in road construction projects to crush and process materials for road surfaces. They play a crucial role in producing aggregates and base materials used in road foundations, ensuring the durability and performance of the constructed infrastructure. The precise control over the final product size provided by track cone crushers is vital for meeting road construction specifications.
Demolition and Recycling: In demolition and recycling applications, track cone crushers are used to crush and process materials such as concrete, bricks, and asphalt. By reducing these materials to smaller sizes, track cone crushers facilitate recycling efforts and enable the production of reusable aggregates. This promotes sustainable practices and minimizes waste in construction and demolition activities.
Landscaping and Site Development: Track cone crushers find uses in landscaping and site development projects. They are utilized to crush rocks and materials for various landscaping purposes, including the creation of pathways, garden features, and decorative elements. Track cone crushers provide the flexibility to produce different-sized materials to meet specific landscaping requirements.
Industrial Applications: Track cone crushers may also find uses in various industrial applications where the crushing of hard and abrasive materials is necessary. Industries such as cement production, ceramics, and mining-related manufacturing processes may benefit from track cone crushers for size reduction and material processing.
REMOTE CONTROLLED
Remote-controlled track machines provide a range of benefits, including improved operator safety, enhanced accessibility, precise control, increased productivity, flexibility, and reduced operator fatigue. These advantages make them valuable tools in industries where efficiency, safety, and performance are paramount.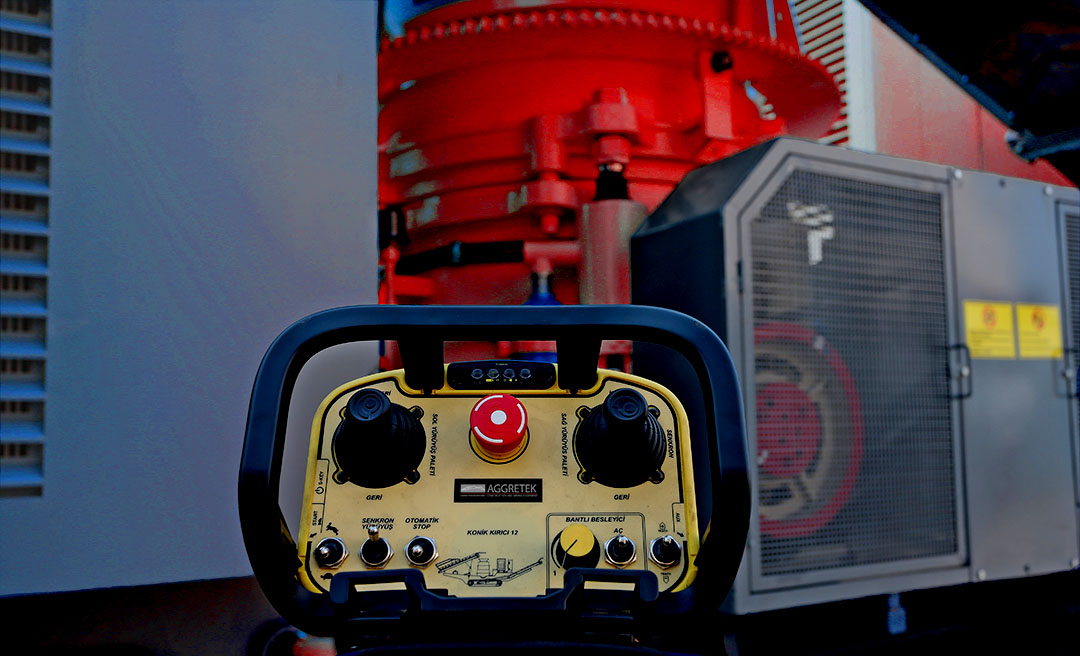 AGGREGATE TECHNOLOGIES GROUP

CORPORATE HEADQUARTERS
150 Isidor Ct. Suite 103
Sparks, Nevada 89441
USA
WEST COAST SALES
Sparks, NV
+1 775-686-6900
EAST COAST SALES
Poughkeepskie, NY
+1 775-335-5480
DISTRIBUTION CENTER
Sparks, NV
ENGINEERING DIVISION
Maddison, WI
DEALER RELATIONS
Seattle, WA
SERVICE DIVISION
Billings, MT